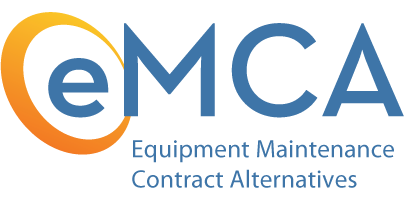 Consolidate your equipment maintenance into one simple contract
Reduce costs by 15 to 22% every year!
Fixed cost means no more budget surprises
Single contract reduces administrative burden
Keep your current vendors
Save even more on parts and service
Receive reimbursements for in-house repair
Ask us for more information and a FREE Contract Review. The review is simple, easy and will immediately show you how much your annual maintenance and service budget will be reduced.
Guaranteed Cost vs. Self Insured Retention
Under Existing Service Contracts:
Total annual cost of all service contracts
$1,000,000
$1,000,000
With Equipment Maintenance Alternative:
Program Fee
$250,000
$800,000
*Self Insured Retention Layer
$600,000
$0
Preventative Maintenance
Included
Included
Total Equipment Maintenance Cost
$850,000
$800,000
SIR
Guaranteed Cost
Client Savings:
$150,000 (15%)
$200,000 (20%)
*The self insured retention layer represents the expected annual cost of equipment repairs based on industry specific historical repair costs.
Equipment Covered
Medical Imaging

Angiographic Systems
C-Arms
Chest Unit
Cine Film Viewers, Projectors
Computers
CT Scanners
Cystology Units
Dental Units
Dose Calibrators
Fluoroscopic Rooms
General Radiographic Rooms
Laser Imagers
Mammography Units Motorized/Film Viewers
MRI Scanners
Nuclear Medicine Cameras
PACS
Portable X-Ray Machines
Radiation Therapy Simulators
Special Procedure Rooms
Tomography Rooms
Treatment Planning Computers
Ultrasound Units
Uptake Probes

Functional Labs/Respiratory Therapy

Blood Gas Analyzer
Plethysmographs
Pulmonary Function Systems
Sleep Labs

Surgery

Call Savers
Cell Washers
Lasers
Microscopes
Phacoemulsifiers

Information Technology

Archiving Appliances
Laptops
Mainframes
Network Devices
Network Storage
PC's & Peripherals
Servers

Cardiology/Stress Test/ICU/CCU/EKG

Arrhythmia Computers
Cardiac Cath Systems
Cardiac Output Computers
Intra Aortic Balloon Pump
Patient Data Monitoring
Stress Test Systems
Telemetry Systems

Research/Laboratory

Analyzers
Angiographic Systems
Autosamplers
Balances
C-Arm
Cell Savers
Cell Washers
Centrifuges
Chromatographs
Cine Film Viewers
Clinical Analyzers
Co-Oximeters
Densitometers
DNA Extractors
Electron Microscopes
Flow Cytometers
Fluorometers
Fluoroscopic Rooms
Gamma Counters
Imaging Systems
Incubators
Lasers
Mass Spectrometers
Microplate Readers
Microscopes
Monitors
MRI Scanners
Optical Microscopes
Particle Counters
Physiological Monitoring
Portable X-Ray Machines
Projectors
Refrigerator/Freezers
Robotic Systems
Scanners
Sequencers
Sleep Labs
Special Procedure Rooms
Spectrometers
Spectrophotometers
Synthesizers
Thermocyclers
Tomographic Rooms

General Office

Automated Filing Systems
Collating Machines
Dictation Equipment
Endorsers
Fax Machines
Microfiche
Micrographic Cameras
Printers
Scanners
Shredders
Time Clocks
Typewriters
Word Processing Equipment

Mail Room

Addressing Systems
Bar-Coding Equipment
Binding Machines
Bursters/Cutters
Collators/Decollators
Inserter Systems
Mail Machines
Mail Peripherals
Sorters

Communication

Audio/Visual Systems
Intercoms
Pagers
Paging Systems
Radios
Telephone Switches
Telephone Systems
Voice Mail Systems

Security

Alarm Systems
Card Access Systems
Video Surveillance Systems
And other equipment that is basically electronic in nature.
Certain models of equipment may not be eligible due to parts & labor exclusivity and/or availability.
List subject to change.