How to profit from the fee versus commissions title fight
By eliminating commissions paid to brokers for selling certain types of health coverage, insurance carriers are fixing the title fight between traditional brokers and modern insurance advisors.
If you are a leader of a community or rural hospital, physician group, or other healthcare entity providing health insurance to its employees, you are more than a spectator with a ringside seat. While the punches are being thrown, what's really at stake is the sustainability and success of your employee health benefit program.
The Big Fix
As of September 1, 2017, United Healthcare is eliminating broker commissions for insurance sold to fully insured groups in Texas and Oklahoma with between 51 and 100 employees.
Leading with my chin
The Big Fix doesn't matter if you believe insurance is a commodity to be bought for the lowest possible price. Nor does it matter if you think health insurance is a necessary evil used only to ward off competing employers.
But, if offering employee health benefits is an essential strategy in the fulfillment of your business plan, The Big Fix provides a glimpse into the future.
I may take a fall for this, but I believe we are seeing the acceleration of a trend that will end with the elimination of commissions on all health insurance. If this happens, brokers who do little more than sell insurance will be knocked out or forced to throw in the towel.
The challenger
Brokers sell, advisors give advice. Currently, both are compensated by insurance companies in the form of commissions. The elimination of commissions may seem like a low blow to the traditional broker. But, for a modern advisor, it exposes the weaknesses of an industry that has far too long been defined by the sale of the product.
The challenger here is not just the modern advisor. The challenger is a completely new way of looking at employee health benefits, a revamping of how the industry is defined, and a redefining of accountability across the board.
Instead of focusing on the product called insurance, the focus is shifting to the outcomes delivered, the alignment of those outcomes with your business plan, and shared three-way accountability between advisor, employer, and employee.
Who gets the prize money?
When your health plan is a strategic investment in the people driving the success of your business, good things happen for everyone involved.
As a leader, you gain greater control over cost, outcomes, and ultimately, the future of your business.
Your team, informed and motivated by an effectively communicated plan, has the information, tools, and resources they need to become better healthcare consumers and – even more importantly – better employees and managers.
And, your benefits advisor enjoys fair and transparent compensation for the actual value and outcomes his or her advice and hard work deliver.
Instead of paying for a commodity called insurance, you and your advisor use insurance as one of many tools in a much larger toolbox.
A heavy hitter emerges
Eliminating the annual renewal slug fest between increased premiums and decreased benefits creates the need for something new, different and effective. We have the opportunity to replace the broken down insurance-first model, with an outcome-oriented (reality-based?), measurable, and manageable model.
From my experience, a successful, mutually accountable relationship focused on clear goals and outcomes, needs a model that is founded on shared principles, proven strategies, evolving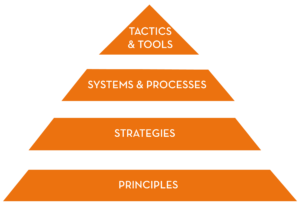 systemsand finally, tactics and tools. (It is key to note that tactics and tools come last, unlike the old model where the tool, insurance, played the foundational role.)
For example, at HealthSure, we believe simplicity is the cure for an increasingly complex world of risk and insurance. This core principle is shared by our clients and we work together to implement strategies based on years of experience and unmatched focus on what it takes to keep you safely ahead of the game.
To ensure strategies are effectively implemented, we've created several core processes for communicating, tracking progress, monitoring the business, economic, and regulatory environment surrounding you, and ongoing plan adaptation and refinement.
By aligning principles, strategies, systems and processes, we are able to choose the most effective tools and tactics.
Saved by the bell
Winning is sometimes just a matter of surviving round by round. In our current healthcare environment, keeping your guard up may not be enough. Whether they meant to or not, by eliminating commissions, insurance companies are giving a ten count to the traditional broker model.
You could argue this is happening just in time. With all of the uncertainty in healthcare, the ever-increasing pressure on your bottom line, and the growing needs of your patients, I believe embracing a modern advisor model instead of the traditional product-first insurance model will enable you to win today and win all of the fights ahead.
Agent On the Record is my personal opinion column. My goal is to provide you with useful, interesting and timely information that will help you succeed in the increasingly complex world of risk and insurance.
My views do not necessarily reflect the views of HealthSure, my employer.
I welcome your feedback, questions and ideas.
Eric Boudinet
Small but important print
This communication is designed to provide a summary of significant developments to our clients. Information presented is based on known provisions. Additional facts and information or future developments may affect the subjects addressed. It is intended to be informational and does not constitute legal advice regarding any specific situation. Plan sponsors should consult and rely on their attorneys for legal advice.